The following items are available for purchase by ACTAR Accredited Reconstructionists.
Desktop Lucite Paperweight
Engraved with your name and ACTAR Registration Number
Size and cost per item:
Small (6" x 5") - $70.00
Medium (7.5" x 7.5") - $75.00
Large (8.5" x 8.5") - $80.00
Orders must be pre-paid due to engraving requirements. Prices shown include shipping to addresses in the continental U.S. Other destinations require additional shipping.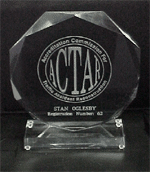 To order please call
800-809-3818
---
ACTAR Lapel or Uniform Pin
Blue enamel pin, gold background with military clutch fastener
Size: 7/8" diameter
Cost $5.00 each

To order please call
800-809-3818
---
ACTAR Registration Stamp and Seal
Seal Size 2" Diameter
Embossing Seal: $50.00
Rubber Stamp: $25.00
Self-Inking Stamp: $40.00
Plus $15.00 Shipping & Handling
To order please use
the PDF order form
---
Professional Electronic Seal
Digital Seal in JPG and GIF format for embedding in your computer generated documents.
Digital Seal: $50.00
Files will be delivered as email attachment from vendor: creechconsulting at gmail.com
To order please use
the PDF order form